Academic project exhibited at X Salón Javeriano de Artes Visuales
Photomontage/art direction/Photography
2010
Ectoplasm or a series of family portraits
Ectoplasm is a term used in spiritualism to denote a substance or spiritual energy "exteriorized" by physical mediums.

Inspired by old (fake) pictures of ectoplasmic experiences, this project proposes a fictional narrative about ghosts and paranormal activities but also family relations and visual metaphors. This one is the oldest project and the only one from my bachelorette degree in Communication studies. Exhibited ten years ago in Bogotá, Colombia, I included it in my portfolio as a record or evolution of my practice and visual interests. This year I wrote this ghost story to reflect ten years later about these images, the art direction, my skills, and my family.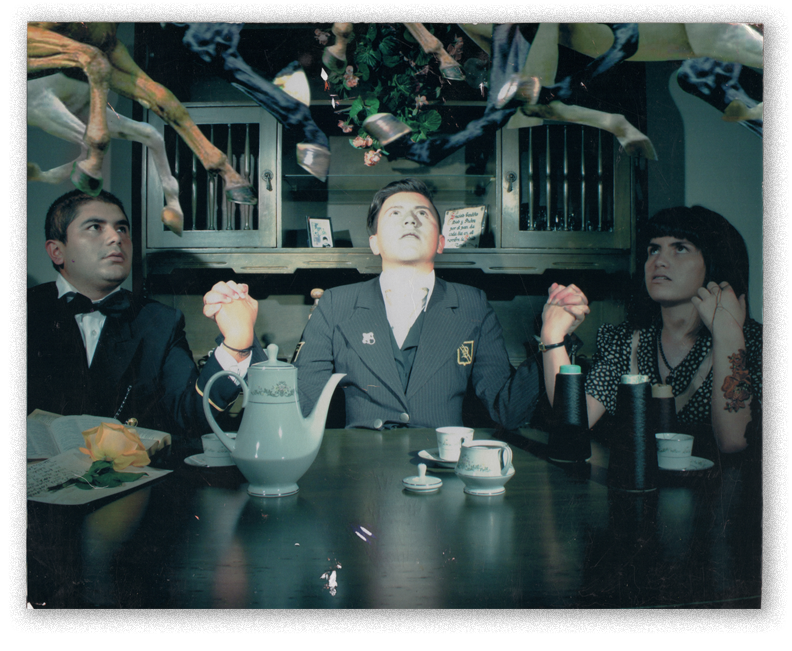 A family ghost story

Do you know some butterflies prefer to stay as a pupa? That's not true, I said. Yes, it is, and they die happy and inside their cocoons without flying and just with the larva memories. My mom used to tell that kind of story, without morals or punchlines. Just awkward stories while she polished her silver and organized her 136 jewelry items into that huge cabinet, forbidden for my siblings and me.





She dies 6 years ago, the day my sister was going to get married, as a revenge I suppouse, or just as a bad joke like her stories, but stay in our house releasing at the middle of the night the flock of pidgeons that my older brother raised, and critizing my sister`s embroidery skills.
We were not scared at all; my mother promised two years before her deceased, coming back to clean her house, check our behavior, feed the horses, and of course have some chamomile tea.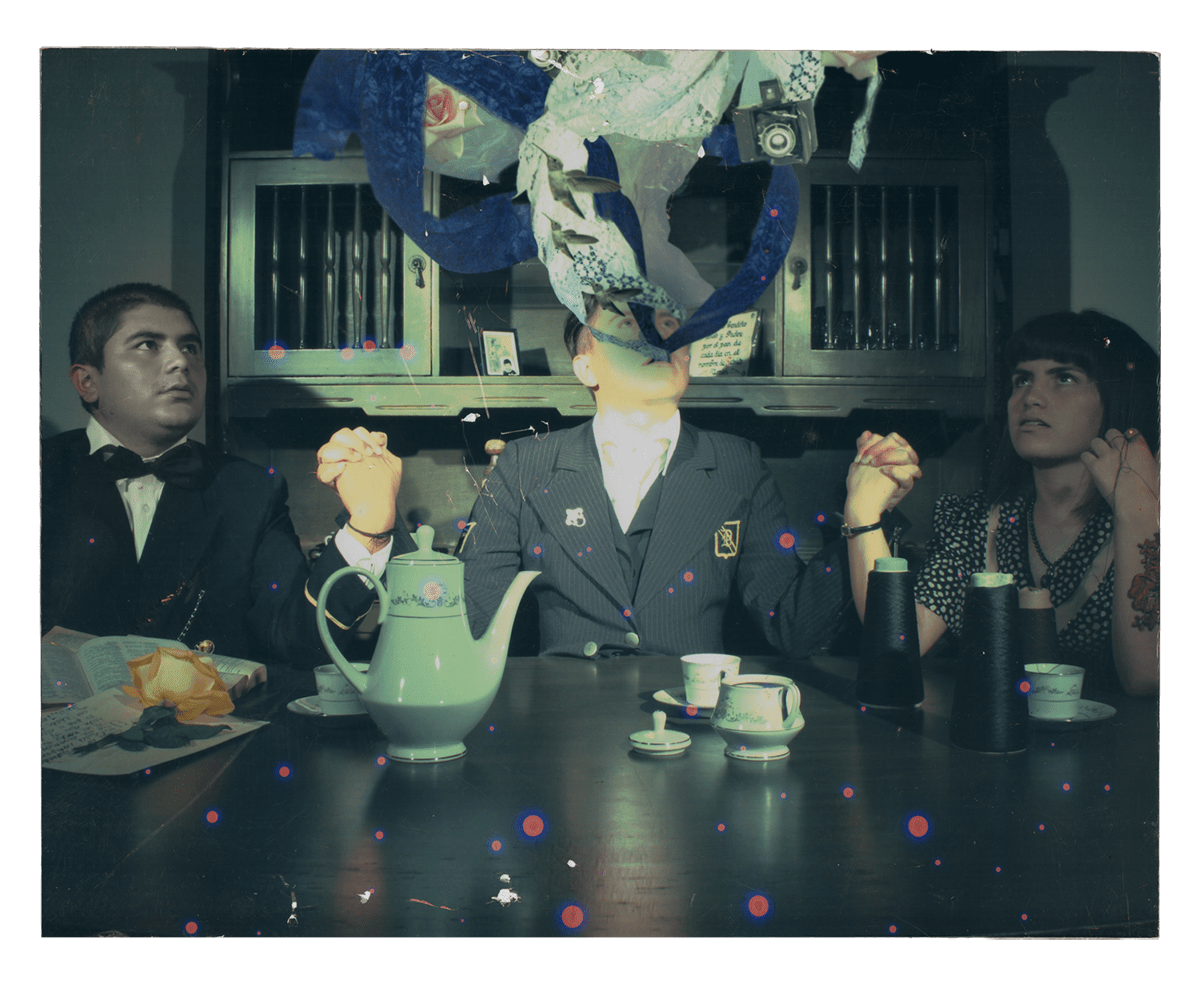 Therefore, It was mandatory for my older brother, one of my sisters and me to sit at the table every Tuesday at six pm to summon her with a massive teapot, our best clothes, and some new gossip about auntie Georgina.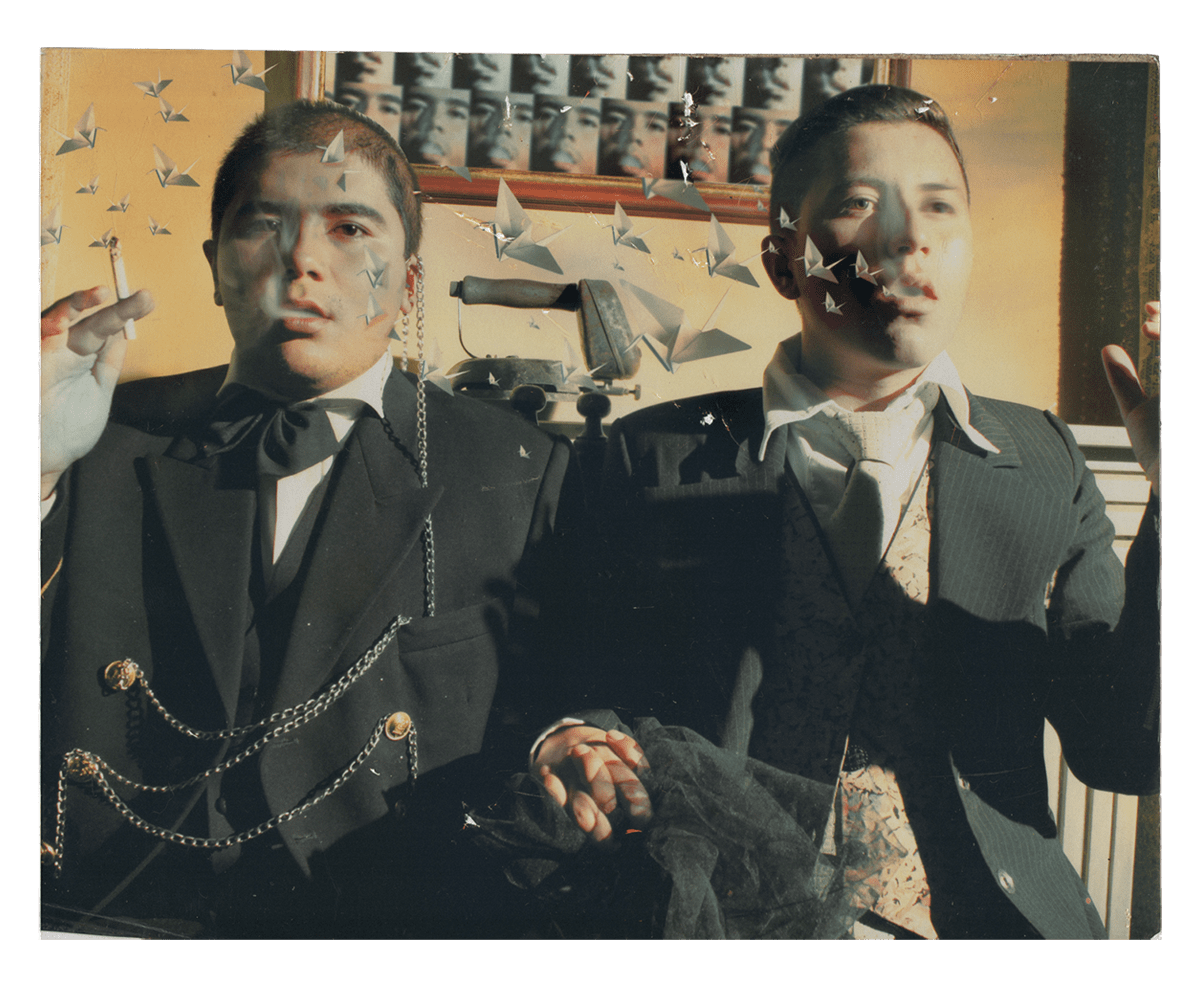 Auntie Georgina, my mother's older sister, was the first wife of my father, she died hunting white sharks at the Siberian coast, leaving my older brother alone. However, my mom adopted him and married the widower. Sometimes we share the vast cigarette reserve that my auntie stipulated as heredity for him.
But Little Georgina is my little sister as well, 12 years old, super smart but shy and obsessed with sea life, She has never seen mom after the funeral but insists that a great white shark ghost appears to her every single st Patrick's day at the backyard. In the beginning, she was terrified, but lately, she is getting closer to the ghost and begin a goldfish farm to feed him when he arrives.
My father secretly summons my auntie, his first love, twice a year, and sometimes I assist him, he is getting forgetful, and his sight is worse every day. After mom's death, he started a haiku book dedicated to Georgina and create a collection of immortalized flowers following the instructions from a book that my older sister received as a marriage/funeral present six years ago.
While my father writes a new haiku and Georgina the little, feed her goldfishes my siblings, and I summon our mother, there was no more chamomile tea, today is lemongrass, and my mother is not happy about that; we talk about fabrics and sewing, how to roll a cigarette and horse races. But again, not a clue about her lost cabinet and the 136 jewelry items. Maybe next week, if we are lucky.